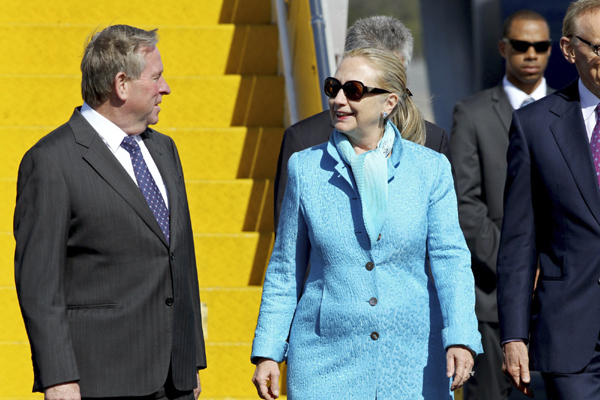 US Secretary of State Hillary Clinton speaks with Premier of Western Australia Colin Barnett (L) as she arrives at Perth International Airport Nov 13, 2012 ahead of AUSMIN talks. [Photo/Agencies]
PERTH - Perth is in a virtual state of lockdown with the arrival of US Secretary of State Hillary Clinton for the annual Australia-US ministerial consultations held alternately in the United States and Australia.
Security was tight as the secretary of state was met by West Australian Premier Colin Barnett and Australian ambassador to the US Kim Beazley.
The West Australian capital city is an eerie sight with roads were blocked throughout Perth and heavy restrictions in place with Perth's international airport under massive security and surveillance.
Discussions for AUSMIN 2012 will be framed by President Obama's so called Asia Pivot and will touch on regional security and the controversial use of Australian bases for US military training.
Australian Defense Minister Stephen Smith and Foreign Minster Bob Carr will be in attendance along with Defense Secretary Leon Panetta, due to arrive in Perth later Tuesday.
Smith told reporters that the rise of China and India as world powers would critically impact geo-strategic footing in the Pacific and Indian rims.
"I continue to make the point that everyone sees the rise of China, but the rise of India and the importance of the Indian Ocean rim and the Indian Ocean strategically continues to be under-appreciated. And HMAS Stirling, as our Indian Ocean port, will continue to grow in significance."
The expansion of US aircraft and naval activity is expected to be on top of the agenda as is the role of HMAS Stirling, Australia's key naval base on the western Australian coast, highlighted as the as the naval base most likely to play host to the increasing US military visits.
Australian Prime Minister Julia Gillard is also in Perth today and will meet the secretary of state and Defense Secretary Panetta for preliminary discussions and a state reception.
The last AUSMIN meeting was in San Francisco in 2010.